Player title – Ranks Valorant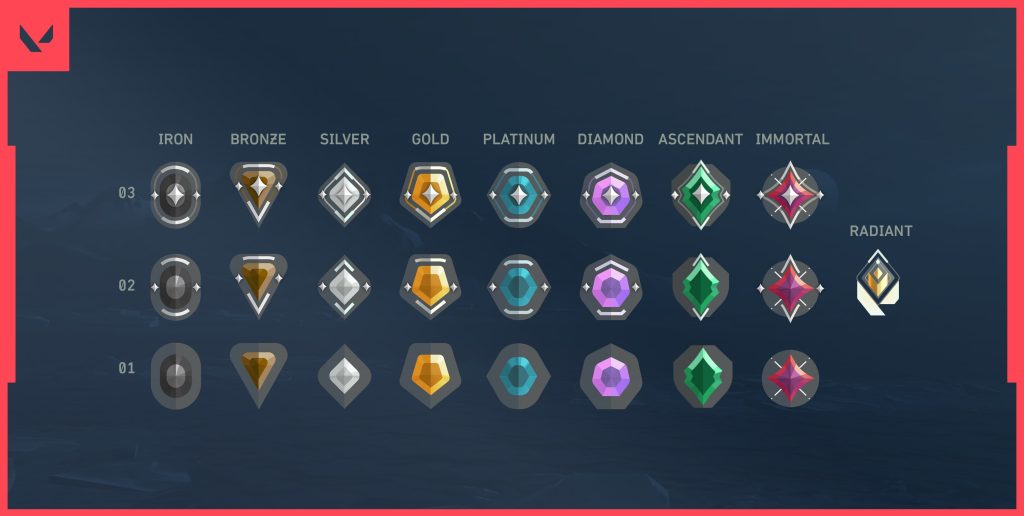 Valorant is a well-known multiplayer video game that is the main competitor of Counter-Strike: Global Offensive. Valorant, like most similar products, has a title system or, as it is also called, a rank system. It is necessary in order to indicate the level of the player and determine his skills to find out how well you play. There are 9 ranks in total we will talk about in this article.
How to get a rank in Valorant
Before playing, you should know that the rating mode will not open immediately. You will have to play at least 20 regular games to get started and understand how it works. You will be allowed to open the rating, but will be unable to increase the rank, since this will require you to play five calibration matches, and after you will automatically be assigned a rank based on your level of ability. In this case, actions of the gamer during the game and the winning and losing will be taken into account.
Increasing your personal ranked play rating, you will gradually increase your rank too. The matches, where opponents will be almost the same level as you (within two ranks from yours) will be available after that only. This is easy, because you will definitely not come across a strong gamer who you will not have a chance to beat due to lack of experience.
What are the ranks in the game
Any fan of team video games in 2023 knows about the Valorant game, but newbies do not understand the title system. Initially, there were 8 ranks (titles), but after the fifth episode started, one more was added. Now the game has 9 ranks, but each of them (except the last one) contains three more sublevels. In general, there are 25 ranks in the game, according to which gamers are distributed.
Now it's time to review all the ranks in the legendary shooter Valorant one by one:
Iron – the initial level. For those who are new in this game.
Bronze – the level is also considered elementary, but these players are more or less orientated in the game.
Silver – here gamers begin to understand the mechanics of the game, they can hit the target and use skills.
Gold – players with this level already have a good understanding of the possibilities of their agent and know what features the opponents' characters have.
Platinum – users of this level play well, they are good at the maps, can manage the agent perfectly, but sometimes they have flaws.
Diamond – these gamers have a good level of experience, use all the advantages of their agent, shoot decently, and sometimes even use different cool tricks.
Ascendant – users who get this title are experienced gamers. They are fast and understand the principles of the game very well.
Immortal – one of the highest titles. Such players are fluent in weapons and know how to apply various tricks. They are deft and smart.
Radiant – This rank is held by the best of the best, true professionals. Usually esportsmen play at this and the previous level. Only those who are in the top 500 best players in their region can receive this rank, but in addition, you need to have a high ranked game rating (RGR).
Many are still interested in the question of how to get a title keychain in the Valorant game. So, it is given at the end of the episode for the best act rank, after that you can hang it on your weapon as an original decoration.
The spread of ranks in the rating party of Valorant
Currently, up to five players can be in a Valorant ranked party/premade. At the same time, people with absolutely any ranks can play in a stack of five people, but if there is at least one person with an Immortal rank of 1 or higher in the team, the stack players lose or earn 25% less RR rating. There are also other restrictions on ranked games. If you are not playing a full stack, your rank difference should not exceed the allowable values. For example, the difference in ranks in a group with a Flourish rank holder should not exceed 3 ranks. The same applies to players with Platinum rank and above. Read more about the difference in ranks for groups in ranked games – below:
At the same time, players with Immortal 1 and above can only play in solo, duo or full-stack matchmaking. In addition, you cannot play ranked matches with a stack of four people.