ENCE aleksib: "If we change a player now I think it would ruin our team"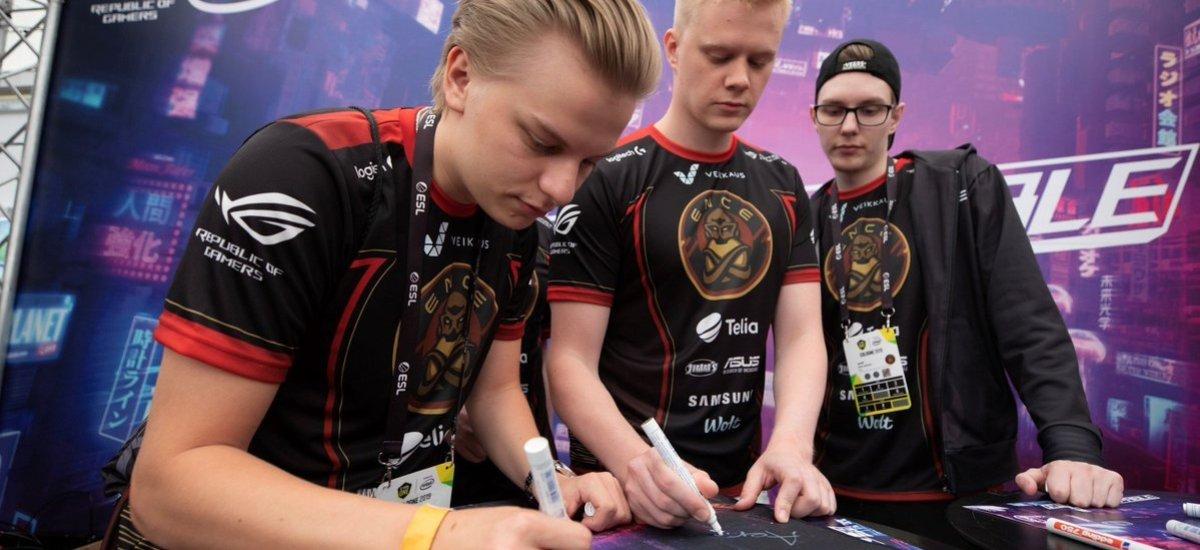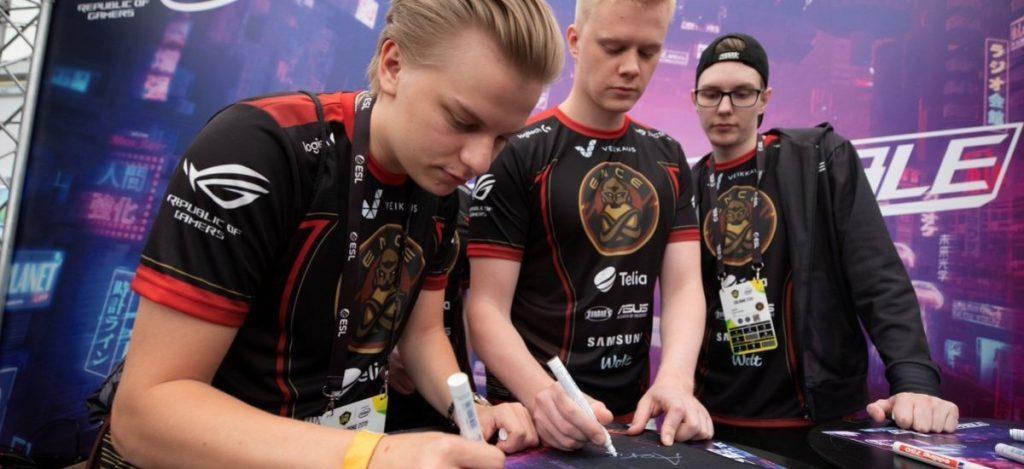 Following ENCE's early dismissal from ESL One Cologne, we talked with the squads in-game leader Aleksi "Aleksib" Virolainen.
The Finnish star discussed the teams performance, their rise towards the top, the esports scene in Finland and more.
VPEsports: Is it hard to be at the top of the pro scene and then be knocked out of a tournament so early?
aleksib: Yeah, it's really hard for us. I think there have been times when we haven't been playing too great like at summit for example. But still, I think this was kind of a wake up call for us. Overall I think nobody was on the server against Heroic, I mean allu played good but as a team we weren't there at all in the best-of-one. So we lost that one and of course that means we're going to the lower bracket which is pretty hard. Then Vitality lost to NiP and we had to face Vitality, the number three team in the world at the moment.
So even though we still need to beat everyone if we want to be here, we can't complain too much about that. Vitality has been really strong against us, their map pool is great against us – so props to them. It feels really bad to lose like this because Cologne is a really top tier tournament behind the Majors. We just need to keep our heads high and go to IEM Chicago in a week and focus on that one. Hopefully we can play much better there and after that prepare for the Major.
VPEsports: Back at Katowice, a lot of people were doubting you and saying you were just having a good event or two. You've managed to keep your form though and prove that you are not one hit wonder team. What work have you done to ensure this?
aleksib: The mentality portion is really important for us and I mean at the Major we got so much experience playing with the crowd. We had slow starts a lot on the stage but when we talk about it after the game we were more prepared for the next game and so on.
I think that has built our confidence to this level so we can play at any stage without pressure, but then again I can't say that too much because we're in last place at Cologne so I mean it is what it is. Sometimes you win, sometimes you lose but we just have to keep consistency to perform at most tournaments.
VPEsports: Do you think this kind of humbling will be good in the long term? Like a loss now but will lead to improvement in the future?
aleksib: Like you said, it's a loss for now, but for the future we just need to remember that if we aren't playing great, if we aren't playing as a unit we can lose. So for the next tournament and so on we just need to remember that we are good if we play as a team.
VPEsports: You've been knocked out in the playoffs since Katowice, but being knocked out this early and in this fashion is new. How does the team handle it?
aleksib: Of course it was really hard the first day, but then we talked about it and we faced a great team in the lower bracket so it's not that harsh. But, I think the fact that we lost to Heroic in a best-of-one, even though it was best-of-one we should still win. We can't blame too much on that but still, we were underdogs once so I know what it's like to upset the good teams so props to Heroic, they played great. But next time we need to be more prepared.
VPEsports: ENCE is a favorite in tournaments these days – a year ago you guys were underdogs. So, do you miss that time now? Teams not focusing on you as much?
aleksib: I do miss it, but I've always had the thought in my mind that I want to be the best and I want to be one of the best teams in the world. So I'm fine where we are right now, but of course when you lose like this you need to remind yourself that you need to have the same drive like you had when you were underdogs. You want to show what you're capable. When you make it to the top, you have to keep it up, you have to keep the same motivation.
VPEsports: So your motivation is still strong?
aleksib: Yeah, the motivation is still strong. We have so many great tournaments we are still attending so this was a good wake up call for us to show what we got.
VPEsports: With the success of your team, what changes happened within the team when it comes to players. Did anyone get arrogant or terrified?
aleksib: Not too much I would say. We have been working the same, we haven't been changing too much stuff. Maybe on some maps we changed a few roles here and there, but not because someone got arrogant. It's just because some things haven't been working so well so we need to change it up.
There isn't too many inside issues in our team. If there is something, it's usually like we forget that we can't play too much on individual skill. We need to rely on our team play which is good and how we play as a unit. And when we play without much focus, we tend to play more individual so we need to look at the big picture and remember that we are good as a unit.
VPEsports: After the Katowice Major there was a rumor about ENCE considering a roster move to sign sunNy. How close to the truth is this?
aleksib: From my perspective it's not true at all. I mean, not once did we talk about it within the team. Even sunNy said somewhere I think that even if he got the offer he wouldn't join. But we hadn't been talking about it because when we started this team and where we are now, we have been making so much progress. If we change a player now I think it would ruin our team.
VPEsports: ENCE is relatively new to this level of the pro scene and all of you but allu are part of this new generation, a new wave of Counter-Strike players. Do you think that maybe your play style or game vision is a bit different from your older colleagues?
aleksib: I wouldn't say too much. You could say we have our own play style because it has been molded as we've been playing together for a year so we know each other, we know what we like to do and how we like to do it. We don't play too strict or too loose, we play in the middle.
Sometimes we play really loosely because someone is hitting every shot so you can do stuff you usually don't do and sometimes when we are not hitting our shots we play more tactics. It's both sides. I think many teams play like that but we have our own style.
VPEsports: Tell me more about your personal development. A year ago people weren't sure but now you've proved yourself a lot. How do you think that you've developed as a captain and leader?
aleksib: Every time we attend new tournaments and every time we talk as a team I want to take criticism towards me and I'll try to improve myself. I have talked with many ex-pros and many other pros. Not too much, but sometimes and if they say something, I try to improve it. You can say anything to me and I won't be mad about it – I try to improve myself every time and I still hope that I can show the world that ENCE is a better team than here in Cologne. I just want to play good CS and I want our team to perform well.
VPEsports: At your age of 22, with the money and fame comes a lot of attention…How do you see yourself out of the game?
aleksib: I don't know, man. I'm just the same guy. I mean, some of my friends who have seen me on TV at the Finnish National and other Finnish tournaments and when we have been winning big tournaments or anything they have sent me messages like "oh I didn't even know you were playing" or stuff like that.
It's fun and it's awesome that people see me somewhere like that but I'm not thinking about it too much, I just like to play and our schedule is really tight. It's tournament, practice, tournament, practice and sometimes we get a weekend off or something so you can't focus too much on that.
VPEsports: A lot of top pro players from different esports titles are Finnish and popping up now as it becomes bigger in the country. Can you tell me more about esports in Finland?
aleksib: I think every other country has been recognizing esports long before Finland. You are seeing Finnish players step up now, but before that there wasn't much. All the other countries like Sweden were dominating. Now I think Finland is much more open to esports. We get esports in schools, many YouTubers and this stuff that brings esports content. I think in Finland esports is a lot more recognizable at this point and that's good for us.
VPEsports: After DreamHack Masters Dallas, you had a break, but you had a Finnish championship. Why did you decide to take part in it?
aleksib: Well, Telia is our sponsor but it's easy for us to participate in because there's not too many games to play and we wanted to kick start the league. Going into season 2, I'm not sure if we are playing yet but it got so huge in Finland and the finals were live on TV so many people watched it. We kick started season 1, but we'll see what the future brings.
VPEsports: You're not old, but you're not young. Do you get any excitement from teaching and talking with the new and young talent in the Finnish league?
aleksib: Yeah, I've always been open to fans and I answer many messages. Before I was a pro, I used to watch the other pros and wonder what they're thinking and how are they this good. So I want to be able to give back.