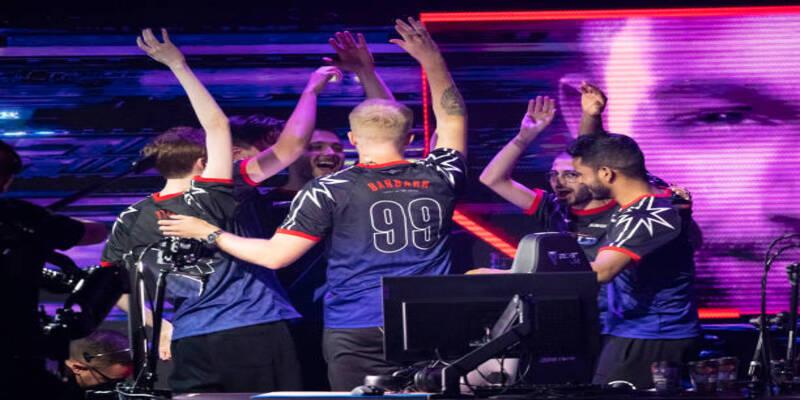 A love letter to OGN from one League of Legends fan whose career path was changed by your production.
Digital Media City
The "all stop" AREX train from Seoul Station to Incheon International Airport was packed with travelers. Beside me, a group of five was having a serious discussion in Mandarin while one of the young women attempted to further tighten the belt around her suitcase. Clothes threatened to spill out of the opening at the top where her suitcase would not close. At the Hongik University stop, a group of students boarded in matching blue t-shirts and red hair ties. It was standing room only, and they swayed along with the train, one hand loosely wrapped around the strap above while the other clutched a phone. The signature "kakao!" sound of KakaoTalk intermittently rose above the train chatter. This group exited the train with me at Digital Media City, possibly en route to a music show recording.
Another glittering success of The Miracle on the Han River, Digital Media City used to be a landfill. Now it's a high-tech hub of production companies, studios, and broadcasters in Sangam-dong. Around the corner from parent company's CJ E&M Center is the S-Plex center, home of OGN's e-Stadium, a studio built for professional esports matches in 2016. It's a smart location, conveniently located near CJ E&M and the World Cup Stadium, which hosted the 2014 League of Legends World Championship. Had Riot Games Korea not built their own studio in downtown Seoul, this location would have been a shoo-in for the play-in stages of the upcoming 2018 World Championship.
I walked out onto the street from Digital Media City station exit 9, and took a left onto Maebongsan-ro. This would be my final journey to the OGN e-Stadium for LoL Champions Korea.
From Yongsan to Sangam
When I first began playing League of Legends casually in mid-2012, my friends informed me, bluntly, as true friends will, that I was bad. If I wanted to improve, I should watch streamers or, better yet, competitive play. So I watched the 2012 North American Regional Qualifiers and the 2012 World Championship. The next spring, I watched the League of Legends Championship Series in both Europe and North America. After 2013 MLG Dallas, I fell in love with KT Rolster B — later the KT Rolster Bullets — in a way that mirrored a fierce dedication to the Boston Red Sox, who most joked were cursed to never win another championship again, until they did in 2004.
OGN's Champions tournament became my entry point into South Korean esports. One quick subscription and I had access to all Champions videos on demand, from the current tournament to the 2012 Azubu the Champions series. I learned why Counter Logic Gaming Europe had been regarded as such a strong team, and watched the legend of Hong "Madlife" Min-gi, who inspired so many young players to play the much-maligned support position, unfold in real time. Every day, I went to my retail job bleary-eyed from watching games in the early morning with the voices of Christopher "Montecristo" Mykles and Erik "DoA" Lonnquist echoing in my head about an exceptional play from SK Telecom T1 #2 rookie Lee "Faker" Sang-hyeok, or CJ Entus Blaze top laner Lee "Flame" Ho-jong.
I grew up playing Starcraft and Starcraft Brood War. Yet I never — even after watching YouTube videos of the Korean Air Starleague 2010 Final intro, complete with airplane entrance and hangar — was struck by the magnitude of these events until I watched the Hot6ix OGN Champions Summer 2013 Finals between the KT Rolster Bullets and SK Telecom T1. I can't hear Queen's "We Are the Champions" without thinking of KT Rolster Bullets standing in the rain at the Jamsil Auxiliary Soccer Stadium, the camera panning across a field of packed plastic chairs to a cloudburst over the Han River. There are so many crucial moments in League of Legends history that OGN has overseen and produced since, but none rival that series in my mind. Despite the fact that the Bullets suffered a dramatic and heartbreaking five-game loss, I still watch it again, and again, knowing the outcome.
OGN's League of Legends history began in earnest on the ninth floor of the iPark Mall in Yongsan, the home of Starcraft's Starleague and Proleague. The broadcast company created the Champions tournament, South Korea's premier League of Legends event. Later, this became LoL Champions Korea and the broadcast was split between SPOTV and OGN. Yongsan saw the rise of League of Legends to one of the most popular games in competitive esports history and OGN's broadcast was part and parcel of LoL's booming popularity. The Champions tournament that OGN created became a global phenomenon, known as the best and highest level of competition in League of Legends as a whole — more competitive than Riot Games' own World Championship due to the sheer strength of South Korea's teams and infrastructure. OGN participated in the rise of competitive Overwatch as well, creating OGN APEX.
APEX
My first trip to the S-plex center in Sangam was not for League of Legends' LoL Champions Korea, but for Overwatch APEX . For months I had watched status updates from friends on my Twitter timeline, scrolling slowly in front of me while I continued to watch LoL Champions Korea (on SPOTV) or China's LoL Pro League at the same ungodly hour for United States viewership.
On August 25, 2017, I watched Luxury Watch Red best Afreeca Freecs in the first stage of OGN APEX Season 4. Later that evening, Flash Lux, clad in t-shirts with iron-on decals, went up against the significantly better-funded, and more talented Kongdoo Uncia. It was a quintessential Korean esports match: an underdog team that stood no chance but had a talented DPS player in Kim "Fleta" Byung-sun up against one of two sister teams belonging to an established organization: Kongdoo. Fleta first made his impact off of the stage. LW Red support player Lee "WonJaeLee" Won-jae was beside himself after the win, rooted to his seat and wiping tears from his eyes. Fleta entered the booth with a grin, giving him a big hug before the two traded computer setups and Flash Lux took the stage.
OGN announced the discontinuation of the APEX tournament in January 2018. With the rise of Overwatch League and the Korean Contenders tournament moved to a different broadcaster, OGN had participated in the rise of another esports scene only to watch the broadcast move forward without them.
Gran Seoul
The OGN crew prepped for the e-Stadium's final broadcast while players set up their computers. Starcraft legend turned Afreeca Freecs coach, Choi "iloveoov" Yun Sung towered over his players, laughing and smiling at jungler Lee "Spirit" Da-yoon and mid laner Lee "KurO" Seo-haeng. On the other side of the stage, Griffin's coach Kim "cvMax" Dae-ho paced back and forth behind his players. The large screen between the two booths showed players goofing off in a spoof of prior OGN openings. In the days to come, I'm sure that writers will come out with lists of their favorite plays from OGN's champions tournaments, or rankings of the variety of well-produced opening sequences.
TRÏBE's "Matter of Time" is the background for the latest and final OGN LCK opening sequence. As the lyrics "The blood and sweat is what made me" lead into a small crescendo, Gen.G mid laner Lee "Crown" Min-ho pulls a black cloth off of the LCK symbol. A row of jerseys appear, first of the current LCK teams and then of retired organizations and players: MiG Blaze, Kang "Cpt Jack" Hyung-woo, Azubu Frost, Lee "CloudTemplar" Hyun-woo, Madlife. Current KT Rolster support Cho "Mata" Se-hyeong looks at the jerseys of his former Samsung Galaxy bot lane partner Gu "imp" Seung-bin. The message is clear. The LCK will go on, but don't forget the history. When I first saw the line of old jerseys and names I teared up. Each OGN introduction tells a story, and this is the most bittersweet narrative yet.
On October 1, 2018, the third floor of the Gran Seoul will officially open to a sold-out crowd of League of Legends fans for the 2018 World Championship Play-In stage. The tickets sold out in less than an hour. The new location is not near Yongsan, Sangam, or SPOTV's Nexon Arena in the Seocho-gu district of the Gangnam area. Instead, it's near the center of the city and City Hall, just outside of the Jonggak station on subway line 1.
Removing OGN, the e-stadium, and the broadcast product from League of Legends history is impossible. On a purely personal level, this broadcast hooked me, becoming my gateway into what would later become a career writing about esports. Griffin's 3-2 playoff victory over the Afreeca Freecs might not be the final League of Legends match to ever be played in OGN's e-Stadium, but it was the final match of what began as a tournament that OGN created.
After the match, I walked out into the humid Seoul night. For a moment, I looked back at the S-plex center. It was just before midnight. I caught a taxi back to my hotel and on the way, managed to communicate in my broken Korean to my driver, who spoke back in broken English. We used the opportunity to hopefully better our comprehension of each others' languages. He asked why I came to South Korea. I told him I wrote about esports. I said it was because South Korean teams are the best.