Every Split we can witness at least twice the greatest match of the European League of Legends, where the only two participant teams that have ever won the LEC face each other within a rivalry that does not stop growing.
It could not be any other match than Fnatic vs G2 Esports.
Every time this clash of titans happens, there are different narratives for both teams, and there is not a single game similar to the previous one. For the one that took place this week, one of the most awaited and hyped games in LEC history, both teams arrived at their match with completely different vibes and motivations.
For Fnatic, this game was not only about defeating the eternal rival, but also about breaking a bad streak. A loss would put them in a very difficult situation, in the low part of the classification board, and it would confirm the difficult times the team is going through.
For G2 Esports, this fight would allow them to keep sharing the first position with Rogue, but the most special part of this game is that, for the first time in six years, Martin "Rekkles" Larsson would face Fnatic, wearing the enemy's jersey.
G2 was the favorite to win the game before it happened, but Fnatic managed to destroy them in 28 minutes.
During the first minutes, it looked like G2 Esports was going to take this one too, and the "revenge" of Fnatic against their former players (Rekkles and Caps) was going to be postponed since the ninjas took the lead in the first plays.
Nevertheless, Fnatic managed to coordinate very well, and gave Bwipo the tools to get strong in the game… and he got very strong.
Fnatic took almost every fight, and to this situation in-game, G2 Esports had to add problems with the Internet that conditioned the whole game, after giving us a super long game pause, and not being able to completely fix these problems.
We should have enforced to go to the office still to minimize the risk of this happening.

Apologies to all ten players and every fan who looked forward to this game.

— Fabian 'GrabbZ' Lohmann (@G2GrabbZ) February 6, 2021
According to GrabbZ, G2 Esports' Head Coach, the problems that they had made the game unplayable, but despite that, they assume their guilt because they took the decision of playing there, and concede the victory to Fnatic, claiming that they could have won in a normal game too.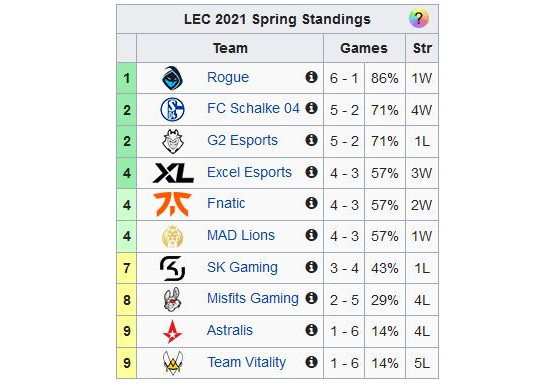 The first half of the 2021 LEC Spring Split is about to finish, and these are the current standings in the competition.
As you can see, Fnatic has advanced in the board and secured a Playoffs position, while G2 Esports has fallen to the second position tied with Schalke 04.
Related article: