The DreamHack Open Atlanta CS:GO event kicks off tomorrow and we've got you covered with all the details regarding the schedule, matches, broadcast team, and more.
Guiding the desk through the action will be Richard Campbell in his debut in the Counter-Strike scene. On the desk will be CS:GO veterans Christine "potter" Chi and Jacob "Pimp" Winneche.
Giving you the play-by-play from within the server will be Tom "Tombizz" Bismire, John "BLU" Mulle, Niels "rizc" Topp, and Mark "boq" Wilson.
Broadcast team:
Richard Campbell – Desk host
Christine "potter" Chi – Analyst
Jacob "Pimp" Winneche – Analyst
Tom "Tombizz" Bissmire – Caster
John "BLU" Mullen – Caster
Niels "rizc" Topp – Caster
Mark "boq" Wilson – Caster
With the swap of Chaos for Cloud9, the DreamHack Open CS:GO groups are as follows:
Group A:
Heroic
Sprout
Illuminar Gaming
Triumph
Group B: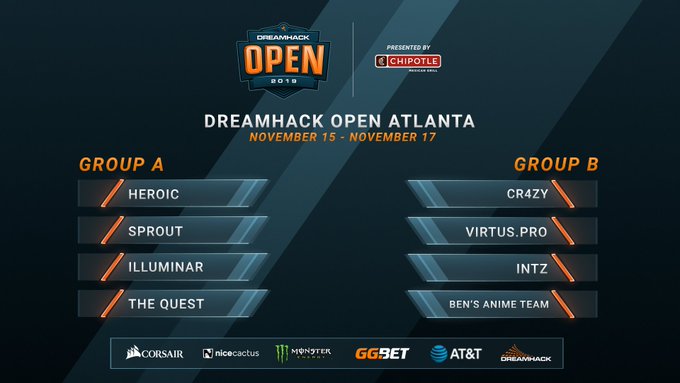 Heroic and CR4ZY are certainly the favorites to top their groups with CR4ZY picking up a win at DreamHack Open Rotterdam and Heroic being the highest-rated team in attendance.
It will be both Chaos and Triumph's debut under their new organizations as well.
Schedule for DreamHack Open Atlanta from Friday-Sunday.
Friday, November 15
12:00 –  Heroic vs.  Triumph | BO1
13:30 –  CR4ZY vs.  Chaos | BO1
15:00 –  Sprout vs.  Illuminar | BO1
16:30 –  Virtus.pro vs.  INTZ | BO1
18:00 – Group A winners' match | BO1
19:30 – Group B winners' match | BO1
Saturday, November 16
10:00 – Group A elimination match | BO3
13:00 – Group B elimination match | BO3
16:00 – Group A decider match | BO3
19:00 – Group B decider match | BO3
Sunday, November 17
10:00 – Semi-final #1 | BO3
13:00 – Semi-final #2 | BO3
17:00 – Grand final | BO3
Related article: