On Day 2 of Week 3 of the 2021 LEC Spring Split, Fnatic has won the most important game of the season, the one against the biggest rival in this competition: G2 Esports.
After a bad beginning, Fnatic was able to pull itself together and coordinate enough to be back in the game, and take advantage of every opportunity it was given (Internet problems in G2 Esports included), to destroy the enemy.
All eyes were set in the bot lane since for the first time in six years, Martin "Rekkles" Larsson was facing Fnatic and not playing with them. Instead, it was Elias "Upset" Lipp the Carry in charge of the orange team's bot lane, and after the game, Riot Games official broadcast wanted to have him talk about this, and more.
Here you have the interview with Laure Valée: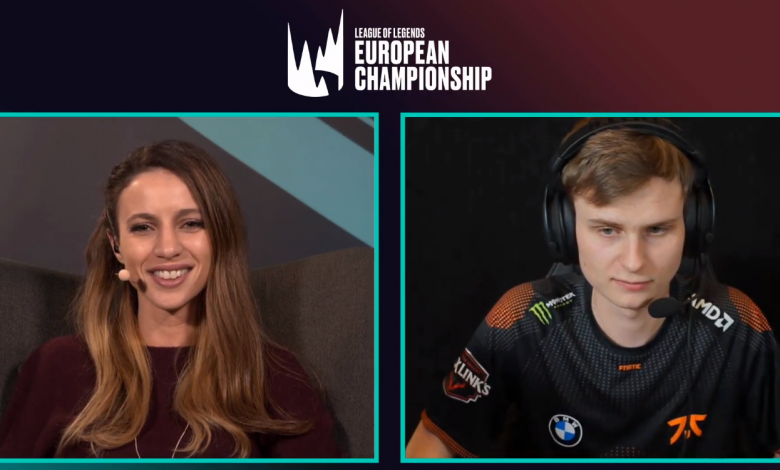 Upset, I'll let you say a few words, first impressions after facing and beating G2?
I am very happy with how we played today, especially compared to the other games we have played so far. We were able to control the map more and Bwipo played spectacularly. The truth is that the whole team played very well, so I'm glad we won and I'm very happy with the team.
I would like to know with what attitude you approached the game, especially considering yesterday's game. How much did it affect you? I guess not much…
We reviewed yesterday's game quite a bit and realized that the opposing turrets do more damage than the opposing champions before the 15th minute, so we've decided that we're not going to dive as many turrets anymore. It was magical to realize this. Hyli… Well, he's taken a few turrets every now and then and died, but the rest of us haven't died as much, so we finally figured it out.
The life of a professional player, you learn things every day. Who would have imagined it? Focusing on the game, what has made you better than G2?
The top exploded, but in the end, Bwipo managed to get ahead. In the bot lane, we also got a big lead, although the opposing turret was pretty tough. Oskar… I mean… Selfmade always has some very good routes and manages to get the advantage in the jungle, so we put ourselves in a very good position already from the early game. We've all gotten our advantages and we've been a unit. We executed the group fights well, we knew what we wanted to do with our champions and it was easy to play with the early advantage we got. A solid game and the opposition lost their lines and the snowball escaped their control.
At what point in the game did you think: "Come on, we can take this map with us. We need to stay focused and calm to destroy the Nexus"
During the break, we realized that we were going to win if we didn't do something crazy. We all calmed down a bit because in the end our games sometimes get out of control and there are like a lot of kills. This time we wanted to take it slower and try to play at a macro level as well. It has paid off.
I'm going to be very honest with you, Upset. I think you had a very important role to fill this year and I'm not even going to compare you to Rekkles on the Rift. I just want to talk about the media hype about Rekkles going to G2 and you going to Fnatic, especially since he's considered an iconic player in Fnatic. How have you adapted amidst all this pressure? Because basically, you've had to adapt to a new team, did the pressure affect you, being compared to Rekkles, did you take that into account when playing today's game?
No, I didn't really care. I was just happy to join Fnatic because I thought they had great players on the team. I also didn't feel a lot of pressure because there is less pressure when you believe in your team and you are surrounded by good players. I was glad to get into Fnatic and I've already played a bunch of times vs Rekkles. He has never scared me. I think he's a great player, but he's a bit more passive, so I don't feel a lot of pressure against him, I actually quite like him. It's always a great experience to play against him, I even learn things.
Would you like to say something to the Fnatic fans who are supporting you?
Yes, thanks for your support, it's going great so far. And please don't be so hard on Hyli… Sometimes he dies more than he should, but there is a genius behind the madness and he is doing a lot for the team, so send him love. He's a great supporter… Thanks for the support.
Related article: